Some of our most vivid childhood memories come from our grandparents' gardens, where hours were spent lost in imagination and outdoor play. However, the gardens in the old times were not structurally as beautiful as they are now. They lacked a lot of features and amenities that nowadays make a garden modern and aesthetically pleasing. For instance, these days, gardens tend to have pools (perhaps built by California Pools – pool builders in Corona) as exotic additions. They also have modernized sheds to keep tools and equipment. Most importantly, every garden today seems to have a section where the homeowners can lounge–the modern term for this is a patio. Many people believe that without a patio (which, by the way, can be designed and constructed by the likes of One Stop Patio Shop – a reputed firm offering services related to patios perth), the property value might not increase. Hence, most homes have this feature. However, in the past, gardens had nothing of this sort. But despite the lack of all the above-mentioned additions, old-day gardens stood out with the scent of sweet peas or the sight of wisteria woven over an arbor, or an old rose on a trellis where people used to tell stories and create imaginary worlds.
Honestly, the plants in those gardens were not the exotic cultivars of today. Most heirloom plants were chosen because they were both lovely and rugged. Grandma was too busy canning and cooking and washing and ironing to dally in the garden, and water might have been a commodity too scarce or difficult to transport – a waste for pampering plants!
Heirloom gardening became the rage in the early 1900s and we've returned to it today. Then, the practice of growing garden beds crammed with mixtures of perennials, annuals vines, and shrubs became a sort of rebellion against the strict formality of Victorian society. And even then, people were beginning to yearn for bygone days of preindustrial life. Today these wild combinations not only take us back in time but fit our modern lifestyles with their carefree growing habits. We modernize it in a manner with the new ways we garden whilst still trying to throwback to how we used to be. Gone are the days of broken-down wooden sheds barely holding in vintage gardening equipment, we now have prefab sheds for sale that we add to the aesthetic with state-of-the-art gardening supplies.
Some things to keep in mind when recreating an old-fashioned garden are the structural elements seen in old-time designs. Some had a trellis, many had an arbor and all had some sort of fence or hedge to enclose the yard. A bench or glider might have been a focal point in your grandma's garden or even an old swing. Moreover, if you have existing pavement or walkway in the backyard, instead of completely removing it, you can consider hiring a repairman. You could explore concrete contractors Marietta GA, or in your close vicinity, to get services such as concrete repairs and construction for pavement, driveway, pool, patio, etc.
As for the trees, simple branches and twigs can provide inexpensive materials for bean teepees and tomato stakes, with white cotton cloth rags, stripped into ties for holding veggies in place. Flowers usually fit into the vegetable garden scheme somewhere, just to keep things nice looking.
Raw poles pruned from trees might even be formed into lattice for vertical use against a wall or used horizontally when placed atop posts to create an openwork ceiling for vines to grow across. The possibilities are endless.
For more information on historic gardening and heirloom plants, click the Smithsonian link below. Vinland Valley Nursery offers many heirlooms for today's gardener, including ornamentals and edibles.
Click here for more about heirloom gardening at Smithsonian Heirloom Garden at the National Museum of American History, Behring Center.
Here are some of our favorites from my grandparent's garden: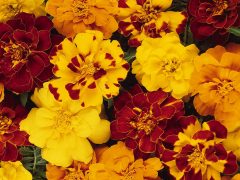 Tagetes hybrids
'Bonanza' mix is a French marigold with a mix of yellow, gold-red, and bicolor large, 2-2.5" crested blooms on dense, uniform 10-12" plants. Native to the Americas, marigolds require very little care and maintenance and are quick to flower, which is why they've been a garden favorite for generations. 'Durango' mix is a uniform, extra-large, double flowering cultivar on bushy, vigorous, dark green, 10" to 12" plants. Festive, red-tipped yellow bolero accents deep red, tangerine and yellow blooms. Plant in sunny beds, containers and window boxes!
ERROR: ID 2299 ain't a plant.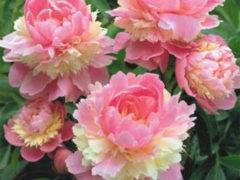 Paeonia lactiflora
Old favorites for late spring display, prized for their large, colorful, fragrant blooms. Plants form an upright clump of dark green leaves that tend to fade in early summer, so plant behind another perennial or shrub to give some cover. Flowers make great arrangements. Peonies add nostalgia to the sunny border. Flowering is always best in a sunny location. 'Kansas' is an award winning variety with large, fully double, dark reddish-pink flowers. 'Festival Maxima' provides huge, double, pure white blooms. 'Sorbet' blooms consist of many layers of large, ice-pink petals and smaller, cream petals with a yellow center.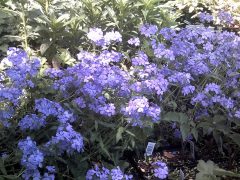 Phlox divaricata
Phlox divaricata and Phlox divaricata 'Blue Moon' grow clusters of blue and violet five-petal stars in early spring are sweetly scented. This woodland edge native naturalizes easily, and provides an early nectar source for hungry hummingbirds and bees! Grows to 1′ tall. NATIVE TO THE EASTERN HALF OF THE U.S.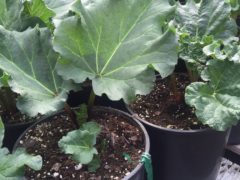 Rheum x hybridum
Produces multitudes of red-blushed green stalks and is the best cooking rhubarb. Sweeter and milder than other cultivars, the stalks are slender and tender.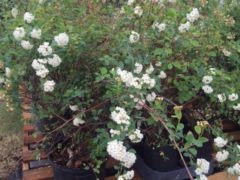 Spiraea × vanhouttei
Old-fashioned spirea is often found in established landscapes around older homes. This handsome arching, loose shrub reaches 4 to 8 feet high and 6 to 8 feet wide. Showy, single white flower clusters open in bunches of 3 to 6 in mid-spring. The finely serrated small leaves turn a yellow to bronzy-purple in the fall. These shrubs make excellent hedges, foundation plantings, borders, and woodland margins as well as flowering specimen, accent plants.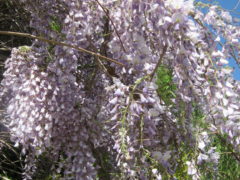 Wisteria frutescens
Blooms in early summer and can rebloom later in the season. Give it the sturdy support of an arbor, pergola or wall. Needs no pruning to bloom and flowers best in full sun. Our plants are cutting grown and guaranteed to bloom. Some of our favorite selections include 'Aunt Maude', 'Amethyst Falls' and 'Aunt Dee'. Wisteria frutescens is the larval host to long-tailed skipper, silver-spotted skipper, marine blue, zarucco duskywing (range is slightly south of us) butterflies, and the Cuphodes wisteriae moth. NATIVE TO THE EASTERN HALF OF THE U.S.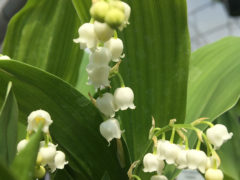 Convallaria majalis 'Prolificans'
Thrives in dry shade in poor soil. Excellent heirloom groundcover with dark green foliage spikes topped in spring with small, fragrant, white nodding bells along stems throughout. This cultivar is so floriferous that at first glance it appears to have double blooms!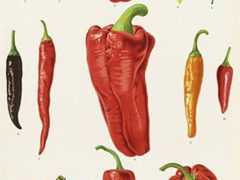 Capsicum annuum species
Originally from Spain, where it is still used as a staple in many dishes. Fruits are perfect for stuffing. Round, apple or tomato-shaped, with a flattened base and a thick, delicious skin. Can also be used fresh like a bell, pickled, canned, or dried for paprika!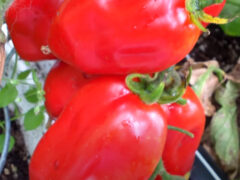 Solanum lycopersicum
Turn of the century heirloom for sauces and canning. Deep red 8 oz fruits with excellent flavor, low acidity.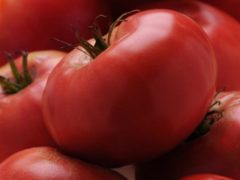 Solanum lycopersicum
Dates back to 1885 and considered to be the world's best tomato. Extra-large fruit up to 1 1/2 lbs. Indeterminate.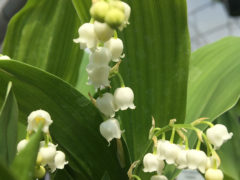 Convallaria majalis 'Prolificans'
Thrives in dry shade in poor soil. Excellent heirloom groundcover with dark green foliage spikes topped in spring with small, fragrant, white nodding bells along stems throughout. This cultivar is so floriferous that at first glance it appears to have double blooms!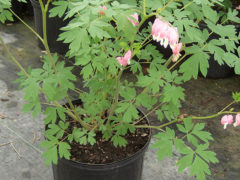 Dicentra spectabilis
An heirloom garden favorite, bleeding heart has ferny green foliage and 1" rose pink heart-shaped flowers with little tear-drops of white for several weeks in spring. Plants can form clumps 3 feet across and almost as tall. Foliage generally goes dormant in summer, so this perennial is best planted behind other plants that will take it's place after its spring show. A wonderful woodland garden perennial with hostas and ferns but tolerates full sun in moist soil. 'Gold Heart' offers the same great habit and characteristics of old-fashioned with bright chartreuse foliage.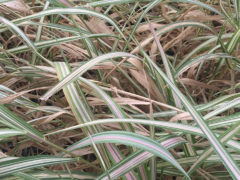 Phalaris arundinacea 'Strawberries and Cream'
18" colorfully tricolored leaves are variegated with white, green and pink. This grass spreads aggressively, which makes it an excellent choice for confined areas where a groundcover is needed. [gallery link="file" columns="1" size="medium" ids="6088"]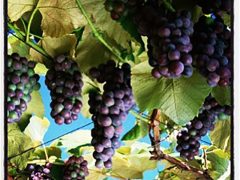 Vitis spp.
'Niagara Seedless' is an excellent variety for regions with short growing seasons. Light green, turning pale yellow to whitish when ripe. Long, tapering clusters of large berries. Useful for desserts, juice and wine. 'Catawba' produces large, pink, seedless berries on vigorous, hardy vine. Fruit useful for fresh eating, but also used in the production of pink and rose wines. Over 100 years old, 'Catawba' produces a medium-bodied, sweet, fragrant wine with a strawberry-like flavor. A good choice for colder regions with short growing seasons. 'Mars' is a vigorous, blue seedless grape. Clusters are medium sized, and vines are resistant to several major diseases. Foliage is late to leaf out, avoiding damage in frost-prone areas. Vines may bear fruit precociously, and production should be controlled on young vines to promote strong establishment. 'Fredonia' produces large clusters of blue-black medium to large berries ripen early and keep well. This V. labrusca is a standard juice and dessert variety. 'Reliance' produces large clusters of red, medium-sized seedless berries. Tender skins and melting flesh with a sweet flavor. Cold hardiness is among the highest of the seedless varieties. 'Concord Seedless' yields plump grapes with deep purple color and lots of juice. A single vine yields 30-40 fruit clusters. 'Jupiter' produces abundant, beautiful clusters of succulent seedless grapes that are good table grapes. As the grapes ripen in early midseason, their reddish-blue color ripens to deep blue. Good disease resistance.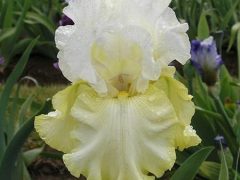 Iris germanica
Yellow fades to white at the center of standards surrounded by yellow falls. An early variety that reblooms. 31" tall. German bearded iris are heirloom plants as tolerant and adaptable as they come. Spikey blue-green foliage makes an attractive show across three seasons, and spring blooms are a harbinger of the summer season to come. Break off seedpods that form after blooms have faded and prune back foliage in fall if desired. Some varieties rebloom in fall, and flowers bloom in a variety of striking colors! Plants can be divided every few years.