3-Part FREE Spring Workshop Series with Rachel Allai: PART 1
March 19  |  1-3pm
Life Beyond the Fence: Creating a Wildlife Bridge in Your Backyard
Wildlife bridges are being used all over the world to connect precious habitat. For turtles in Japan, monkeys in Costa Rica and even crabs on Easter Island wildlife bridges have allowed safe passage across developed terrain. But what does a wildlife bridge look like in Kansas? First, we need habitat, sources of connection! And for that answer, we ask our own wild neighbors. Monarchs may say gardens or "islands" of milkweed and native flowers. Flying squirrels may look for intact forest canopies. Our bigger mammals prefer our streams and waterways. By bringing back native plants into our own yards, we can establish connective habitat and become the bridge that our wildlife are needing right now. Join us for this exciting workshop series where we explore our own backyard wildlife bridge through garden layers. First, we explore native flowers and grasses on March 19. Next, with native shrubs on April 23. And finally with native trees on May 21st!
PART 1: Native Grasses and Flowers
Kansas, once an ancient sea bed, used be flushed with miles of unending prairie grasslands. Here in the northeast corner, we are interspersed with oak-deciduous forest. For our first wildlife bridge workshop, we dive into the incredible biodiversity of our first garden layer – Kansas grasses and wildflowers! And learn how to plant them in our gardens! For this hands-on workshop, we will introduce several native plant species, how they interact with their wild community and plant our own native seeds!
WORKSHOP OUTLINE
Introduction, personal story
Concept of wildlife corridors
Our wildlife neighbors
Creating habitat in our yards
Visual: Imagine your yard, is it sunny or shady? Are there hills, or is it flat? Are there wet spots or is it dry?
Choosing native plants
Chart with growing preferences/heights,etc
Community planting, choosing 3+ plants
Planting seeds!
Getting home/preparing your site
This workshop is free. Bring a folding chair if you have one!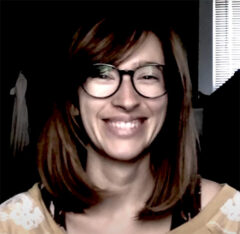 Rachel Allai moved to Kansas from St. Louis to study wildlife biology at Baker University. While in school, she traveled to Costa Rica and spent several weeks studying howler monkeys and constructing aerial wildlife bridges with the Monkey Bridge Project (MBP). This marked the beginning of her love for habitat restoration and conservation education. Since that trip, she has been back to Costa Rica many more times helping with MBP and the Sloth Conservation Association. Since becoming a new mom, she has found herself grounded in Kansas exploring wild places, gardening and introducing herself to neighborhood trees! She is a teacher, musician and nature enthusiast. You can find her with Weda Skirts, Signal Ridge, Americana Music Academy and Morning Song Forest School. She lives in Lawrence with her husband, wonder-filled son and fluffy orange cat, Wally.
---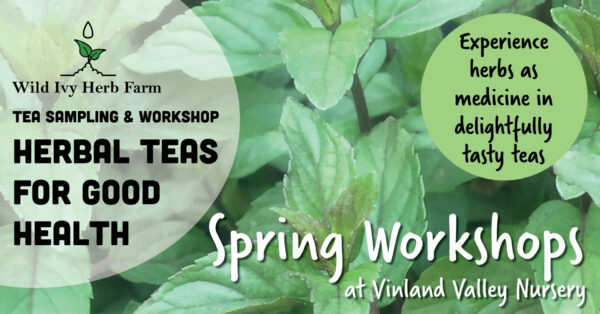 Tea Sampling & Workshop
March 26  |  2-4 pm
Herbal Teas for Good Health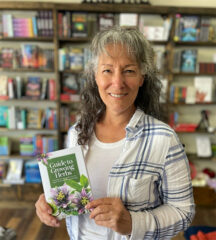 Vinland Valley Nursery is thrilled to host Lori Trojan, Master Herblist, Master Gardener, Author of "Guide to Growing Herbs", and owner of Wild Ivy Cafe and Wild Ivy Farm!
Lori will introduce you to wild-sourced plants and also show you how to use herbs from your own garden to create delicious and healthy teas. Sample teas Lori has created to support good health and learn how you can make your own.
$20 registration
Click here
and select the March 26 workshop to register for this event.