browsing: trees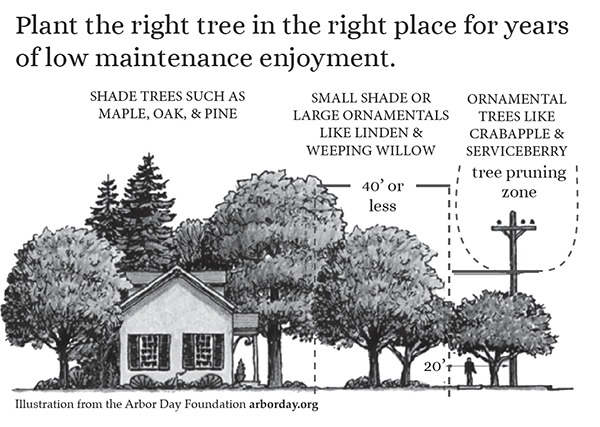 Trees and shrubs can be planted year-round as long as the ground isn't frozen. When planting a new tree, keep in mind that the only water source the plant has is the relatively small root ball until new roots can grow into the surrounding soil.
At minimum new trees should be watered twice weekly, and under hot, dry summer conditions even more. Water slowly to allow moisture to make its way deep down into the soil, which will encourage the roots to follow.
When planting, make sure the base of the trunk is not planted too deep, and keep mulch pulled back to allow air to flow around the base of the plant. Make sure the surface of the root ball will be level with the surrounding soil level even after the tree has settled.
Staking young trees will minimize stress from wind in unprotected locations. Because the tree will continue to grow it is important to allow some movement. Check trees every three months to loosen as needed. Use fence posts and a short length of old garden hose with wire through the hose to protect the trunk of the tree from being damaged by the tie wire. Remove the stakes after one to two years.