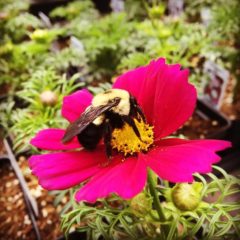 The third Saturday in August is World Honey Bee Day! With 20,000 species worldwide, this day celebrates the importance of bees in our world by helping spread awareness of the dangers bees face, along with suggested ways to help them.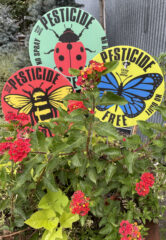 Together with sunlight, soil and water, pollinators play an essential role in flowering plant survival. 80% of all crop plants that feed us rely on pollinators, including ants, beetles, butterflies, flies, birds, hummingbirds, moths, and bees. Pollinator populations have taken a huge hit with habitat loss, climate change, and pesticides. We're growing plants to help mitigate this problem, and you can help by planting them in your landscape!
Following is a recommended list of plants (including many local natives) that will attract and feed pollinators. They have the most impact when planted in groups in full sun, and of course, you should never use pesticides in your pollinator garden. Pick up a pesticide-free sign for your pollinator plot when you purchase plants and help spread the word.