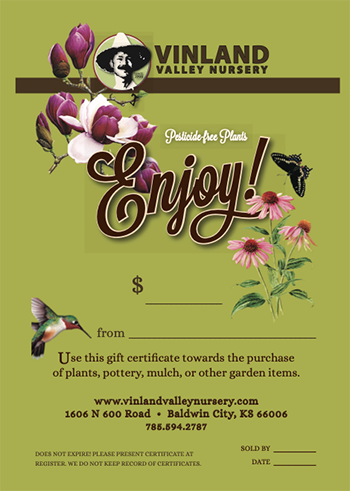 We've created extra special gift certificates that nestle nicely into wood grain embossed envelopes which we will mail to you or your gift recipient. Gift certificates can be redeemed at the nursery for any item or service.
Gift certificates pair perfectly with gardening bandanas, poison ivy soap, Vinland Valley Nursery t-shirts and patches, tropicals and succulents planted in unique pots, and a myriad of items for plant lovers available in the garden shop. Purchase certificates at the nursery and round out your gift with a little something extra.
Gift certificates are available in the shop of by phone — call 785.594.2966. 
In a hurry? Email amyalbright@vinlandvalleynursery.com and ask for a temporary email certificate for fast delivery! We can email it to you or directly to your gift recipient. We'll keep the actual certificate at the register for them to collect by showing their temporary email certificate.