Baptisia australis is an upright native perennial which typically grows 3-4′ tall and occurs in rich woods, thickets and along stream banks from Pennsylvania south to North Carolina and Tennessee.
Easily grown in average, dry to medium, well-drained soil in full sun to part shade, false indigo grows best in full sun. Tolerates drought and poor soils. Plants form slowly expanding clumps with deep root systems that should not be disturbed once established. Shearing foliage after bloom helps maintain rounded plant appearance.
Plants feature lupine-like flowers in erect 12″ racemes over clover-like blue-green foliage. Spring flowers give way to inflated seed pods up to 2.5″ long which turn charcoal black when ripe and have considerable ornamental interest. Seed pods were once popularly used by children as rattles. Now we have iPods.
It's hard to improve on the striking blue blooms of native baptisia, but Baptisia 'Pink Lemonade' sports unique bicolor flower spikes that take our breath away. In late spring to early summer, soft yellow flowers age to dusty raspberry purple, and both colors appear on the stem at the same time on charcoal stems.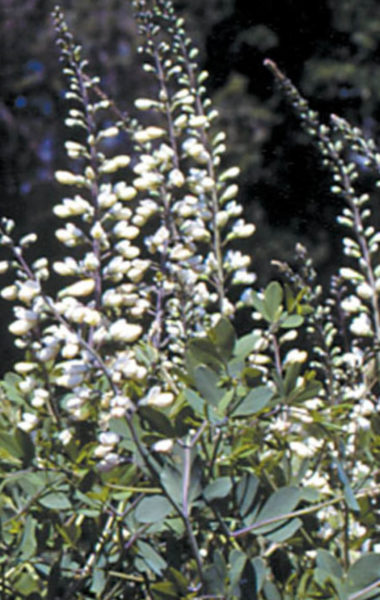 Baptisia lutea is a stately, native plant with white flowers in June followed by black pods that make fabulous arrangements. Easy to grow in average soil in full sun to part shade, but does best in full sun. Over time, plants develop slowly expanding clumps with extensive root systems and do not like to be disturbed.
Baptisias are beautiful, showy native plants with colorful designer cousins that all provide larval food for the Wild Indigo Duskywing butterfly, Eastern Tailed-Blue, Orange Sulphur, Clouded Sulphur, Frosted Elfin, Hoary Edge, and nectar for bees and butterflies.
BANNER PHOTO LEFT by Amy Albright/BANNER PHOTO RIGHT courtesy of Walter's Gardens, Inc./PHOTO LEFT courtesy of Bluebird Nursery