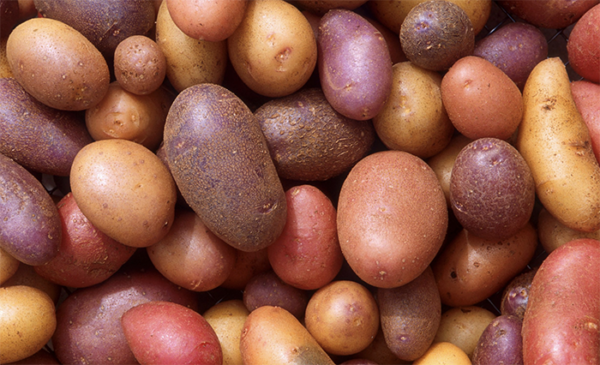 Potatoes are one of the easiest root crops to grow! They grow in average soil and a small area can provide a nice yield of this tasty vegetable.
Due to its compact size, 'Red Norland' is ideal for small gardens. It is an outstanding red potato with shallow eyes and excellent flavor. It was developed for northern growers but is widely adaptable.
'Kennebec' is a large potato with thin, light tan skin that allows for quick and easy peeling. It has a uniform appearance and white fleshy insides. It has resistance to blight and other diseases.
'Russet Norkotah' is a long, smooth, shallow-eyed potato. It is adaptable in many areas and generally has a 7 to 9-month storage life. Its versatility and flavor make this potato ideal for baking.
'Pontiac Red' is a great mashing potato thin red skins, shallow eyes and crisp white flesh. They also make beautiful new potatoes. An excellent choice for planting in heavy soils. Potatoes store well.
Plant in early spring in a sunny location. Water weekly through warm summer weather but do not overwater.