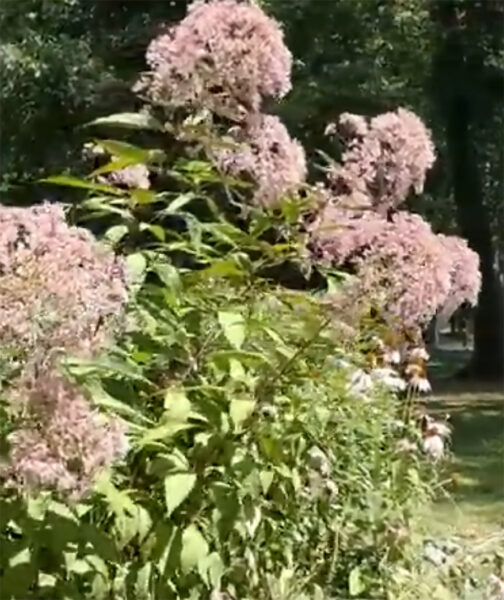 An excellent back of the border native plant growing 6′ tall or more with deep green foliage with red veining and stems. Red flower clusters appear in late summer and early fall. Height can be controlled with an early summer cut back by half. A widespread native North American plant that can cope with clay and wet soils, though it prefers rich moist well-drained soils. Not generally attractive to deer. Purplish-pink flower heads attract butterflies and pollinators in the summer and the seed heads provide food for birds in the winter months if not cut back in the fall.
'Phantom' Joe Pye weed is a Eupatorium maculatum selection that tops out at about 2 to 3 feet in height and about 1-2 feet in width, making it an excellent choice for small gardens and borders.
Eupatorium maculatum is a food source for several butterfly species including orange sulphur, pearl crescent, painted lady, giant swallowtail, tiger swallowtail, variegated fritillary, and red admiral.