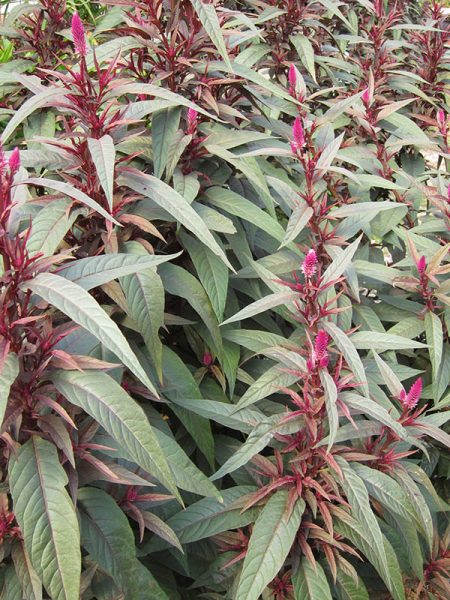 Our pink-spiked celosia is grown from seed harvested from the gardens at Monticello, where it has grown since 1984. Slender pale pink flower spikes appear in summer. According to the Monticello seed listing, "It is similar to the light flesh-colored C. argentea linearis which was introduced from China and eastern India in the early 18th century. American seed catalogs of the mid-1800s offered a 'Feathered Celosia', Celosia spicata rosea¸ with pinkish-colored flower spikes, 3-4 inches long, which could be dried like an "Everlasting, retaining both form and color".  It was also called 'Lady's Finger'."
Our red feather celosia seed was collected by Lenora Larson at Long Lips Farm and is one of her staple pollinator plants that self-seeds throughout her amazing gardens.
'Flamingo Feather Purple' is a dark leaf variety with dark pink bloom plumes on tall stalks great for cutting.
Plants self-seed and thread around other annuals and perennials in the cutting and butterfly garden!