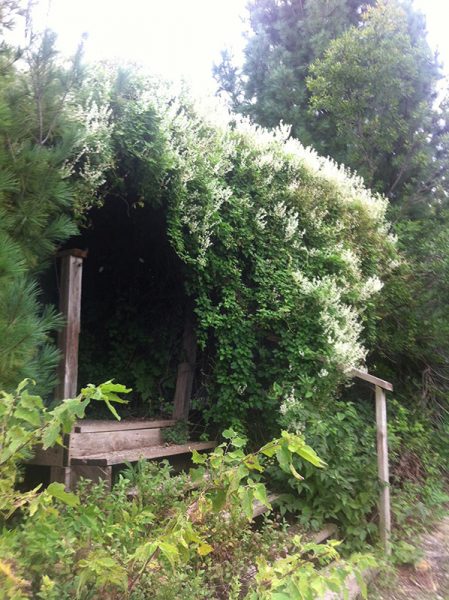 Large vines are covered in white, fragrant flowers in late summer and early fall. This hardy climber is a rampant grower that can reach to 30′, but can easily be kept in check by cutting stems back to 12″ in spring. It blooms on the current year's growth and thrives in partial shade as well as blazing hot, full sun.
Pruning group C.
PRUNING GROUP KEY
Group A // Bloom early in the year and can be pruned to keep them within their allotted space, or to remove dead and unsightly foliage but only right after flowering. If are pruned late in the season, or before they flower in the year, flower buds will be lost. Some of the more commonly found representatives of this group include the Montanas, which are extremely vigourous in USDA zones 5 and warmer, and varieties of C. alpina and C. macropetala. These clematis will also develop into very large specimen plants over time. All of the Group A clematis bloom on growth made the previous year.
Group B  //  Plants bloom first on old wood and then again on new growth. Prune lightly in early spring to shape if desired and then prune after bloom if desired. You really can't screw up with this group!
Group C // Summer blooming varieties inclusing viticellas, Jackmanii, texensis, herbaceous species such as integrifolia and recta, and the late bloomers like sweet autumn clematis (C. terniflora) and orientalis types. This group blooms on new wood produced in the current year and should be pruned back severely every year in late winter, when dormant to about 12″ about soil level. Leave at least two pairs of buds (4) on each stem of the plant. This is a very fast growing group and will reach their full height before blooming every summer. Fail to prune will cause leggy vines devoid of foliage and blooms.