browsing: Great Spangled Fritillary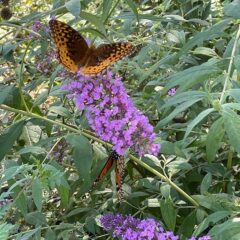 Caterpillars hide under the leaves during daytime.
Adults eat the nectar from many species of flowers including milkweeds, thistles, violets, ironweed, dogbane, mountain laurel, verbena, vetch, bergamot, red clover, joe-pye weed, and purple coneflower.
Click here for range map, photos, and natural history.
Include these plants in your landscape to host Great Spangled Fritillary!