browsing: garden to table — tomatoes
Scientifically speaking, a tomato is definitely a fruit. True fruits are developed from the ovary in the base of the flower, and contain the seeds of the plant. That said, tomatoes are generally called 'vegetables' because they are used in savory rather than sweet cooking.
There are tomatoes for fresh eating like big sandwich slicers and tiny cherry varieties. Some varieties make excellent sauces. Yellow varieties are easier on those sensitive to high acid content. Heirlooms have amazing old-time flavor, and there are disease-resistant hybrids that will grow in the most difficult gardens.
---
Plant tomato starts after night temperatures reach 60° (mid- to late-May or even June) or cover transplants at dusk with cloches or other protective structures to get a head start. If you are starting seeds plan to sow in mid- to late-March to avoid having to keep fast-growing seedlings indoors.
Determinate tomato varieties require less space and support and produce a more bushy plant that can be grown in a container. Fruit is produced and ripens all at once. Indeterminate varieties grow much larger and need strong support. Vines will keep growing and fruits are produced and ripen over the summer season until temperatures drop.
Plants need at least 8 hours of sun per day and regular watering. Add compost to soil and mulch after planting to keep weeds down and roots cool and hydrated. Water deeply and often to prevent blossom end rot and promote vine growth and fruit production.
Support vines with hoop-style tomato cages, lattices, stakes, and wire fencing or cattle panels. Space to allow good air circulation and access for picking fruit and pruning vines.
Tomato plants are heavy feeders, so plan to top dress with compost and/or feed with an organic fertilizer throughout the growing season. We recommend Espoma Tomato-tone.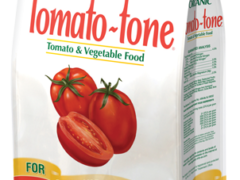 Flats of 18 mixed veggies are discounted 10%. Plants are grown with organic potting mix and fertilizer.