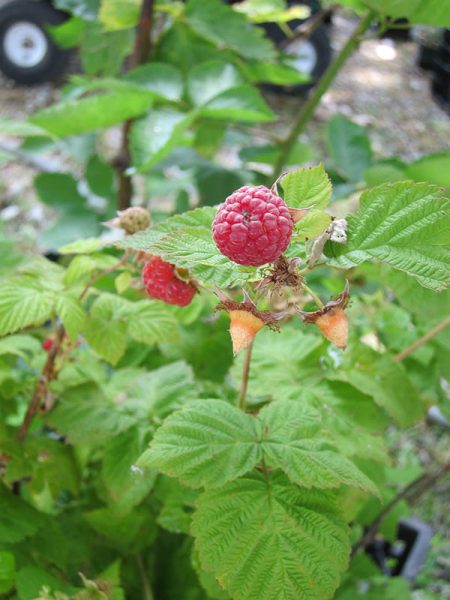 'Heritage Red' is an everbearing variety bears fruit the first year. Produces light crop in spring, and a heavy crop in fall.
'Fall Gold' is an everbearing variety with golden yellow raspberries that are sweet as sugar. Great for freezing. Grows well in the midwest.
'Nova Red' is almost thornless and produces bright red berries early in the season. Slightly tart flavor perfect for jams, preserves or eating right off the plant.
'Jewel' produces heavy yields of large black berries with excellent flavor. Highly disease resistant.
'Prelude' offers sweet, great big, firm red berries. Early to midseason summer bearing, this super producer has a nice long fruiting season.
'Double Gold' is peachy gold to vibrant coral. Highly productive plants bearing crops of tender, juicy fruits with excellent flavor. Ideal for "u-pick" stands and farmer's markets. Named for its "double" bearing nature: Fall-bearing (everbearing) primocane with a summer crop. Floricane berries ripen in July. Primocane berries ripen in September through frost. Disease-resistant to phytophthora root rot and common leaf issues. Cold-hardy and self-pollinating. A licensed variety of Cornell University.
'Cumberland' produces medium-large, blue-black berries with outstanding flavor. Good for eating fresh, and making jams and jellies. A good, dependable variety with excellent winter hardiness.
Raspberries are self-fertile.
SITE: Raspberries require a sunny site in well-drained, slightly acidic soil. Avoid chalky and alkaline soils that can cause poor growth and yellowing leaves.
MULCH: Essential for weed control and moisture conservation, hardwood chips and straw are the best choice for raspberries.
FERTILIZER: Fruit production will improve with plant feeding twice a year. For best production, compost or organic fertilizer should be spread over root zone once in spring before growth begins in March, and once again in May.
PRUNING: Raspberry canes are of two types, primocanes and floricanes. Primocanes are first year canes while floricanes are second-year fruiting canes. Summer red raspberries can be pruned twice a year, first in the spring and again after harvest. Spring pruning is done to remove weak canes and cut back tall canes to 4.5 – 5'. The second pruning involves removing canes that produced fruit immediately following the last harvest.
Everbearing red raspberries can be pruned to produce fruit once or twice a year. If you follow the pruning methods used for summer red raspberries, they will produce fruit once in spring and once in fall. Some growers mow all canes to the ground in early spring to reduce work load and raspberries pruned this way will produce only one mid summer crop.
Black raspberries are pruned three times a year — in the spring, summer, and again after fruiting. The first pruning is done in spring, cutting lateral branches back to 8 – 10" in length in mid-March. The second pruning is called tipping or heading of new canes or primocanes. When grown without supports, summer tipping is done when black raspberry canes reach 24" tall. Tipping is done by removing the top 2 – 3" of new shoots as they develop. The third pruning is done right after the harvest, and removes canes that have produced fruit.
SUPPORT: A trellis can help make the crop easier to manage and keep the canes off the ground so that berries are cleaner and easier to pick. Construct a trellis with support wires placed 2-3' apart and 36" high.