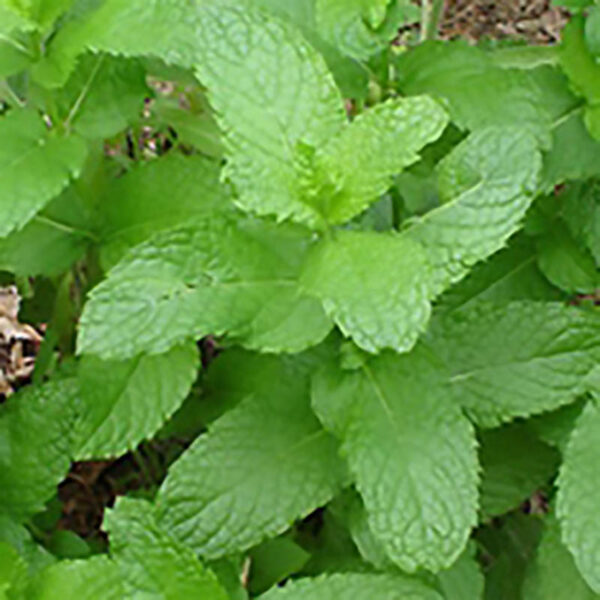 'The Best' (Mentha spicata), like other spearmints, has less menthol than peppermint varieties which make them the best choice for using fresh in mint sauces and drinks.
'Kentucky Colonel' (Mentha spicata) is an outstanding spearmint selection with delightful crinkly green leaves, among the best for cooking and mint juleps!
'Mojito' (Mentha x villosa) is the strongest, sweetest spearmint aroma and flavor. Bright green leaves and dark reddish stems. Plants grow up to 2′ high, and can be confined to a pot to control spread.
Add some 'Chocolate' mint (Mentha × piperita f. citrata) to the coffee as it is brewing. Mellower flavor than spearmint.
'Orange' mint (Mentha x piperita citrata) is a delicious herb for summer drinks and fruit salads. The citrus flavor is a bright alternative to regular mints and works well in salads and with fruits. Orange mint has less concentrated amounts of menthol than peppermint or spearmint with a less harsh soft citrus flavor.
Peppermint (Mentha × piperita) is a hybrid cross of aquatic mint and spearmint, the abundant menthol in peppermint is what makes it ideal for flavoring sweet foods. Also called candymint.
'Ginger' mint (Mentha x gracilis) sports lavender blooms in late summer on long slender stalks. The aroma is similar to spearmint with undertones of ginger.
'Pineapple' mint (Mentha suaveolens variegata) is hardy to zone 6 and will tolerate some afternoon shade. It's pretty variegated foliage adds some ornamental interest.