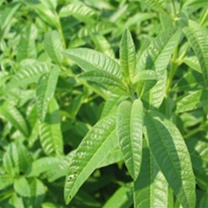 Leaves are great for drinks, salads, jellies, sauces, soups, fish or meat dishes and desserts that call for lemon. Chartruese foliage is pretty, too.
Try this recipe for lemon verbena lemonade liqueur by Weeds and Wild Things:
Chop half a cup of fresh lemon verbena leaves and put in a jar with 4 cups of vodka. Let sit covered for two weeks, shaking jar every once in a while. After two weeks, add 2 cups of sugar and shake to dissolve. Let sit for two more weeks. Strain out leaves and bottle liqueur for use in desserts, or with seltzer.