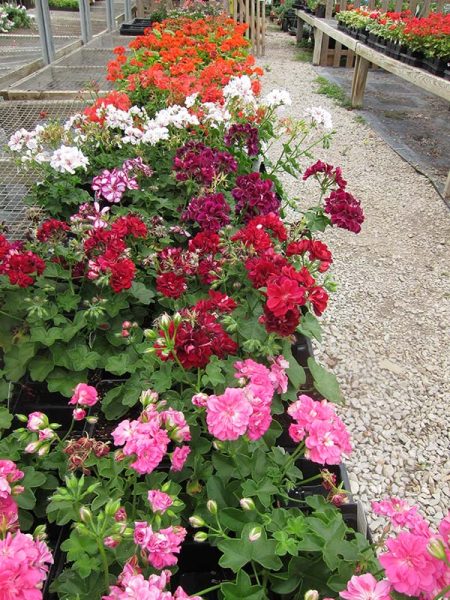 'Americana Dark Red' is a true dark red over medium green foliage. This vigorous upright zonal cultivar does extremely well in landscape beds and containers, growing 12-18″ tall.
'Americana White' sports clear white semi-double blooms cover trailing plants growing 2-3′. Excellent for creating bold low maintenance containers, window boxes and hanging baskets. Try this with 'Diamond Frost' euphorbia for an icy cold combo!
'Cranberry Red' sports large, vibrant cranberry red flowers very early. Distinctive cranberry red, almost luminescent flowers above medium green foliage. 12-18″ tall.
'Americana Pink' offers brilliant rose pink blooms has a white striped center. Upright zonal plants grow 12-13″ tall.
'Flower Fairy Berry' is a semi-double with rich, velvety red blooms with a large dark eye over zoned green leaves. Striking color and nice overall habit.