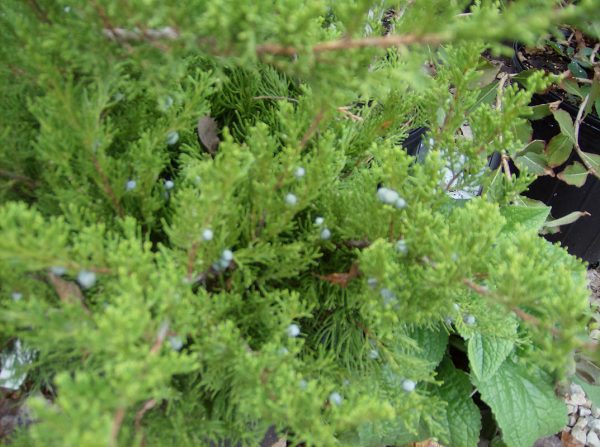 chinensis 'Gold Lace' Gold foliage tips brances. An outstanding contrast plant. 3–4' tall, spreading 5–6' wide. Hardy to zone 4.
horizontalis 'Plumosa' (Andorra) Densely branching evergreen creates a 12–18" groundcover versatile for rock gardens and borders. Bright green foliage turns plum purple in winter.
h. 'Wiltonii' ('Blue Rug') One of the best trailing junipers with uniform growth habit and intense silver-blue evergreen foliage that stays very low at no moe than 6–8". Spreads up to 8' across. Excellent for large scale groundcovers or cascading over walls.
procumbens 'Nana' (Japanese garden) Dwarf ground cover that grows 8-12" tall and spreads to 6' wide over time. Bright green, evergreen foliage. Makes an excellent bonsai specimen as well.
virginiana 'Grey Owl' Grows 3' high and 6' wide with silver-grey, finely textured evergreen needles on arching branches. Drought tolerant when established and cold hardy to zone 4. A wonderful contrast plant.