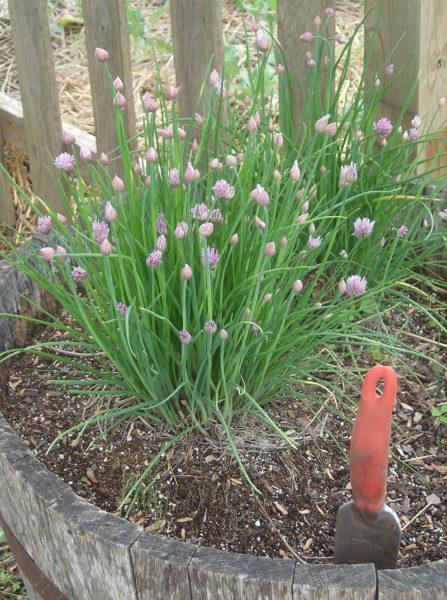 Mild onion flavor. Can be used fresh in salads, or can be frozen or dried for later use in vegetables, soups, eggs, sauces, poultry, fish, butters or vinegars.Plants form 12" grass-like clusters. Showy in full bloom with round, pinkish purple blossoms that make a pretty garnish and taste great in salads. Easy to grow, it's also and excellent green roof plant.
Garlic chives are also called Chinese leeks and are a staple in Asian cuisine. The flavor of garlic chives is more like garlic than chives, but much milder. Leaves and stalks of flowers are used as a flavoring similarly to chives, green onions or garlic and are used as a stir fry ingredient. Used in China to make dumplings with a combination of egg, shrimp and pork. Flowers may also be used as a spice. In Vietnam, leaves of garlic chives are cut into short pieces and used as the only vegetable in a soup dish consisting of broth and sliced pork kidneys. A Chinese flatbread similar to the green onion pancake may be made with garlic chives instead of scallions; such a pancake is called a jiucai bing or jiucai you bing.
Foliage repels aphids, flowers attract bees!