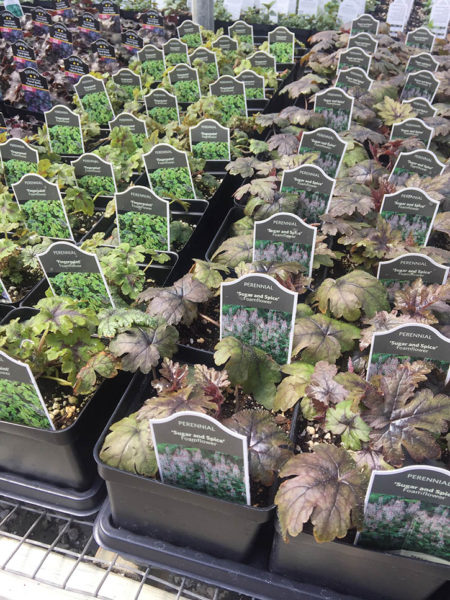 Tiarella 'Jeepers Creepers' Fuzzy green leaves with a dramatic black center form a beautifully patterned, weed-suppressing groundcover. Coloration is more pronounced in cooler weather. An improvement over other groundcover-types of Tiarella; it slowly creeps, not runs, across the ground. Lightly fragrant, creamy-white flowers appear on 12″ tall spikes in spring.
'Fingerpaint' 6-inch-high, frilly, oak-leaf shaped green foliage over-layed with chocolate-brown center makes a wonderful show in the hosta garden. White bottlebrush flowers bloom atop 8-10" stems. Grown in full shade in rich, moist soil.
'Cutting Edge' replaces 'Jade Peacock' in the Proven Winners® Program. 'Cutting Edge' has finely dissected green leaves with a dramatic dark burgundy center and a nicely rounded habit. In early spring, creamy bottlebrush-like flowers cover the entire plant. Grows to a height of 8-10″, and has a clumping habit.