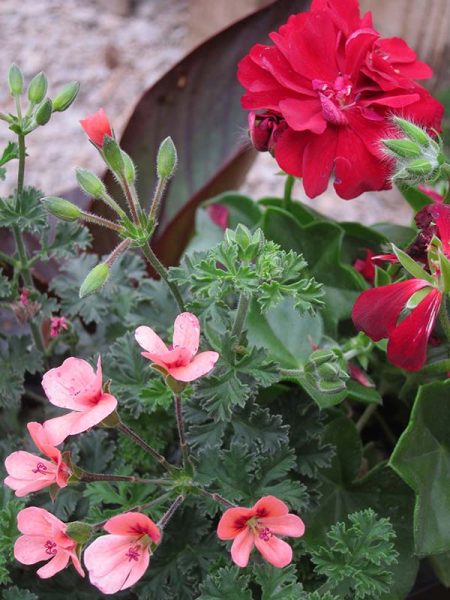 We added these exotic geraniums to our collection in 2011 and they've been a favorite ever since — get them while they last! Easy care indoors and out. Upright plants grow to 18″ tall and wide.
'Angel Eyes Patio Orange' sports delicate, pansy-like blooms of dark salmon edged in white cover 18″ plants. Leaves are smaller than conventional geraniums, with serrated edges and deep texturing. Very unique. Excellent for patio containers or as greenhouse or conservatory specimens.
'Patio Orange' plants are covered with delicate blooms of deep salmon orange with a dark eye.
'Burgundy Red' plants are dripping with medium purple petals edged in deep pink.
'Bicolor' offers delicate, pansy-like bicolor blooms of half purple and half white over delicately textured foliage with serrated edges and deep texturing. Another unique and hard to find geranium from our collection!