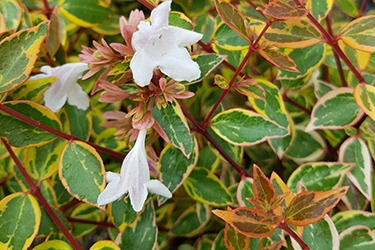 Beautiful tricolor evergreen foliage emerges dark pink with green and white variegation, softening to pink, gold, and green as summer progresses. Fragrant white blooms in summer age to rosy pink. Wonderful year-round interest.
Attracts hummingbirds, butterflies, and bees!
Prefers well-drained, acidic soil but is highly adaptable. Add Bio-Tone when planting. Mulch to conserve moisture, suppress weeds, and keep root temperature from extreme heat and cold. Water deeply and regularly during the first growing season to establish a healthy root system.
Once established, water during periods of drought. Abelia will tolerate dry spells. Prune in late winter to early spring to shape, and apply Holly-Tone organic fertilizer for acid-loving plants.