Additional Garden Controls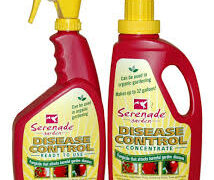 Garden Shop
A broad spectrum biofungicide, Serenade Garden contains a patented strain of Bacillus subtilis. Provides protection against many of the most common fungal and bacterial garden diseases (see label). Now you can grow beautiful disease-free fruits, vegetables and flowers – without chemicals that can be harmful to people or the environment. It is so safe you can confidently harvest and eat fruits and vegetables the very same day they are treated. Will NOT harm bees or beneficial insects. OMRI Listed for use in organic production.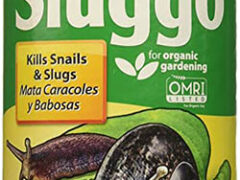 Garden Shop
Sluggo Slug & Snail Killer is an alternative to traditional slug and snail baits. Sluggo contains iron phosphate and can be used around pets and wildlife. This product is labeled for use in vegetable gardens up until harvest and remains effective after rain or sprinkling. We use it only when slug populations get too high for leafy greens to keep up, and it typically knocks them back into balance enough that further applications aren't needed for several seasons.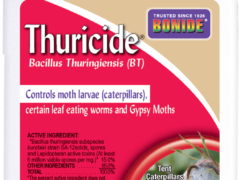 Garden Shop
A liquid formulation of bacteria. Controls caterpillars, loopers, cabbage worms, hornworms, leaf folders and leaf rollers. BT won't harm beneficial insects, pets, or people but it WILL HARM ALL CATERPILLARS! Do not use near butterfly and pollinator gardens. We reserve use of this product for targeted applications on evergreens and trees with serious infestations of bagworms.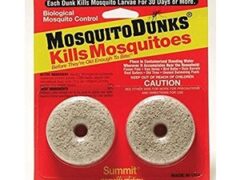 Garden Shop
Mosquito Dunks biological mosquito control contains Bti, a natural mosquito larvicide, which kills mosquito larvae, but is harmless to birds, fish, wildlife, and pets. Simply place a Dunk in any standing water to control mosquito larvae for up to 30 days. Available in 2 packs and 6 packs.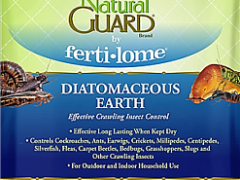 Garden Shop
This natural contact insecticide works by causing abrasions on insects as they come in contact with it, resulting in loss of body fluids and dehydration. Digestible by Earthworms, thus causing them no harm. Controls roaches, ants, earwigs,  and other hard-shelled insects. We especially like it for controlling squash bugs.