We offer vegetable, herb and flower seed packs from Bentley Seed Company and Baker Creek Heirloom Seeds.
Bentley is a family-owned company offering high quality, non-GMO, heirloom, open-pollinated, fresh crop seed that ranks above federal germination standards. Bentley Seed Co. has taken the Council for Responsible Genetics' Safe Seed Pledge to preserve the integrity of the world's seed supply. The Council for Responsible Genetics was founded in 1983, and is comprised of scientists, lawyers, public health advocates and citizens concerned about the social, ethical and environmental impact of new genetic technologies.
Baker Creek offers one of the largest selections of 19th-century heirloom seeds from Europe and Asia, with about 1,000 stunning heirloom varieties.
NEW! Page's Urban Gardening seed packs feature vegetable varieties suitable for container gardening with normal fruit size on compact plants. Many varieties are very ornamental during their growth stage, adding beauty to your balcony, porch or patio in addition to delicious, fresh food for your table.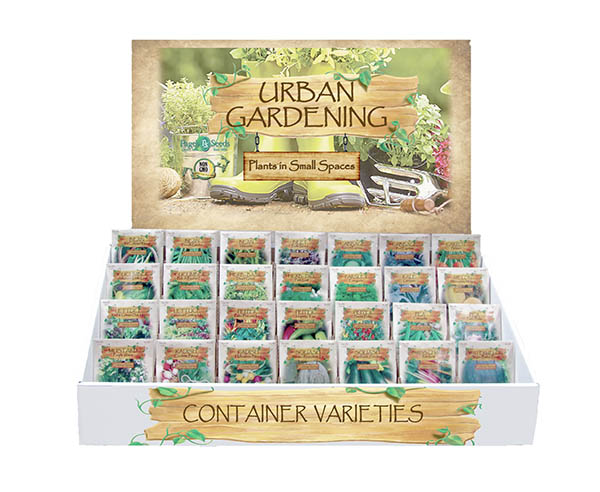 Bentley Seed Packs
Beans, Henderson Lima
Beets, Chioggia
Cabbage, Late Flat Dutch
Cabbage, Red Acre
Peas, Oregon Sugar Pod
Peas, Sugar Ann Snap
Pumpkin, Jack O'Lantern
Radish, Sparkler
Carrot, Nantes
Onion, Red Danvers
Beans, Provider
Beets, Detroit
Cantaloupe, Hale's Best
Corn, Golden Bantam
Beans, Kentucky Wonder
Corn, Pearls & Gold
Gourds, Ornamental
Lettuce, Buttercrunch
Lettuce, Parris Island Romaine
Lettuce, Red Salad Bowl
Radish, Cherry Belle
Spinach, Bloomsdale Savoy
Squash, Acorn
Squash, Buttercup
Turnip, Purple White Globe
Turnip, Seven Top
Carrot, Danvers Half Long
Cucumber, Boston Pickling
Cucumber, Marketmore 76
Lettuce, Mesclun Mix
Lettuce, Simpson's Curled
Onion, Sweet Yellow
Peas, Little Marvel
Watermelon, Crimson Sweet
Watermelon, Sugar Baby
Basil, Genovese
Basil, Lemon
Basil, Purple Leaf
Caraway
Marigold, Dwarf French
Morning Glory
Sunflower, Mammoth
Zinnia, CA Giant
Baker Creek Seed Packs
Purple Lady Bok Choy
Green Tatsoi
Henderson's Black Seeded Simpson Lettuce
Flashy Butter Gem Lettuce
Merveille des Quatre Saisons Lettuce
Hearts of Gold Melon
Kajari Melon
Lincoln Garden Pea
Mammoth Melting Sugar Snow Pea
Easter Basket Mix Radish
Chinese Multicolor Spinach
Bloomsdale Long Standing Spinach
Tomatillo Verde
Carolina Cross 180 Watermelon
Sugar Baby Watermelon
Sugar Baby Bush Watermelon
America Sweet Pea
Cardinal Climber Morning Glory
Imperial Japanese Mix Morning Glory
Salmon Sunset Four O'Clocks